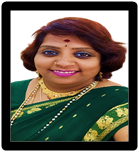 About Thejaswini Yadav K
Thejaswini completed her Bachelor of Arts (KSP) degree from MLAWC in the year 2005.During her college tenure, she actively participated in inter-class and intercollegiate cultural activities. With the support of the Kannada department lectures ,Thejaswini had the opportunity to take part twice in the State level Kannada drama competition.
Currently, Thejaswini is working as an Administrative Executive at Don Bosco Group of Institutions and she is for the second time part of the Student Association as a Cultural Secretary.
Thejaswini has fifteen years of vast experience in the Education Sector as a Student Counsellor, Office Executive, Chief Examiner, and Event Coordinator. She encourages the students to choose the right path for their bright future and assists the financially weaker students to take Government Financial Assistance.
She is a Working President for State Women's Wing in Karnataka Yadava YuvaVedike.
Furthermore, she is also the state General Secretary for State Women's Wing in Karnataka State Nomadic and Semi Nomadic Community Association, Secretary for Kengeri Ward Women's Wing in regional party Jana Hitha Paksha (JHP) and President for Karnataka Unity & Development of Yadava Association.