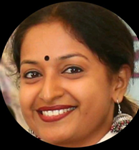 About Mrs. Ashwini Narayan
Alumnus of B.sc Microbiology, Biochemistry and Zoology of 2003 batch, Ms. Ashwini Narayan is the Joint Secretary of ARPAN. Ashwini is a senior research scientist at Jubilant Biosys, Bengaluru. She has over 15 years of industrial experience in pharmaceutical drug discovery and development. She has served for pharma and life science organizations like Astra Zeneca, Avesthagen and research institute such as Jawaharlal Nehru Centre for Advanced Scientific Research (JNCASR).
Ashwini holds a master degree in Biotechnology and is currently working in the field of Immuno-oncology. A proficient bioscientist who has worked on neglected diseases such as Tuberculosis, Malaria and serious bacterial infections. Her expertise lies in designing, developing new assays and problem solving skills. Detailed understanding of state of the art drug discovery science and technologies is her strong trait. She has had an incredible opportunity to work across different domains of biology like in-vivo & ex-vivo pharmacology, Microbiology (anti-bacterial), Biochemistry and Molecular biology supporting projects at various stages of discovery. She has developed various in-vitro biochemical assay systems for PoC studies and NCE screening. She has collaborated with various teams and is involved in validation of pre-clinical targets moving lead molecules from the discovery stage to the pre-clinical stage. She has also established and validated ex-vivo and mechanistic studies for pre-clinical validation of targets. She has many publications in peer-reviewed journals and has received several accolades for her contributions in her journeyAshwini has mentored mLAC students because she believes that "WE MAKE A LIVING BY WHAT WE GET, BUT WE MAKE A LIFE BY WHAT WE GIVE".