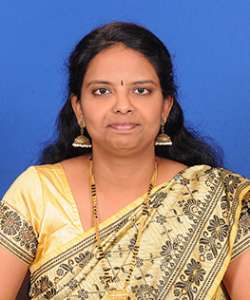 About Dr. Babitha
Alumnus of B.Sc (CBZ) of 2000 batch, Dr.Babitha is an academician with 19+ years of Teaching experience at mLAC. Currently serving as Associate Professor and Head of the Department of Biotechnology, mLAC, she leads a team of enthusiastic faculty and students to lead the department to journey of Excellence.
After finishing her M.Sc degree, she started her career as Lecturer in Department of Biotechnology at mLAC and from then on, journey towards professional growth led her to do her Ph.D from Bangalore University.
During her course of teaching tenure, she has successfully completed two UGC-minor research projects, Guide for six M.Sc Biofuel Student Projects sponsored by KSCST and KSBDB. She has presented various research papers and published papers of National and International repute.
She have been conferred four Guide award for Science Model-making Competition conducted at State level organized under Karnataka Rajya Vigynana Parishat, Karnataka Science and Technology, Dept of Collegiate Education, Bangalore, Guide award for Best M.Sc Biofuel Project.
As an IQAC member, mLAC she strives her best in taking various initiatives to fulfil the vision and mission of institution.
As Co-ordinator of IIT-JAM Coaching Program for Biotechnology a unique program offered only by mLAC to students in and around Bangalore, facilitating advanced learners to realize the dream of enrolling them to higher institutions of learning.
As BoS and BoE Chairperson of UG Biotechnology, she has made reforms in Curriculum development emphasizing on standards of quality education, current technology meeting the requirements of industry needs. She is also the BoE member in other institutions as well such as REVA University, Garden City University.
Under her leadership, she has organized various workshops, seminars and conferences at National and Regional level to focus on Biotechnology Applications to society and human mankind. She have been constantly encouraging students to carry industrial visits, internships and Add on Course in Molecular Techniques to update students with latest trends in technology. She have been pivotal in involving various industry and research institutions collaborations to bring change in teaching learning process.
As President of ARPAN, mLAC Alumni Association, she along with her team is actively involved in various events and activities to bring maximum alumni interactions and promote alumni networking to contribute immensely to the Institution.
Her urge to learn and explore new areas and her concept of Collective Leadership has embarked a horizon in her career and help Institution to reach heights of Excellence.